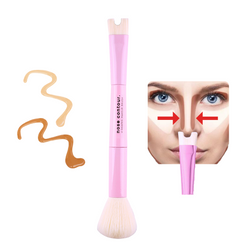 Katelia Beauty
Nose Contour U-Shaped Makeup Brush
Our Nose Contour U-Shaped Makeup Brush is duo precision brush for making nose contour EASIER and more efficient so that anyone can do it! The U-shaped brush is for creating a defined and slimmer nose shape while the fluffy end of the brush is for blending and buffing the nose contour and for contouring the cheekbones & jawline.
【HOW TO USE】Use the U-Shaped brush for cream contour and apply vertically down your nose to create 2 parallel lines. Use the fluffy brush to buff and blend the lines for a natural nose contour. Continue with the fluffy brush for applying contour & bronzer to your cheekbones, jawline, and temples. You can use this side for powder and/or blush as well. Be sure to use translucent powder on the sides of your nose for an even slimmer nose shape.
【Easy to Use】Our innovative and unique Nose Contour Makeup Brush is designed to make it easier to contour the nose due to the u-shape of the brush. Nose contour is one of the hardest skills to achieve but now with this brush, you no longer need to be a pro at nose contour because this product makes it quick & simple to achieve a slimmer looking nose shape!
【Vegan Brush】We designed our nose contour brush with premium soft synthetic fibers. It is 100% natural & vegan makeup brush making it suitable for all skin types as is made with a soft and silky material which is delicate on the face.
【Perfect Gift】Our Pro Precision Dual-Ended Nose Contour Makeup makes the perfect gift for every occasion especially as a birthday gift and/or Christmas gift for makeup lovers! Every girl needs this product and will absolutely love to have this unique and innovative U-Shaped Makeup Brush in their makeup routine for faster and easier nose contour!