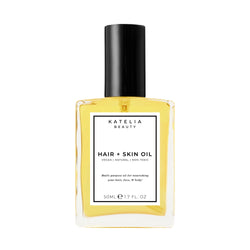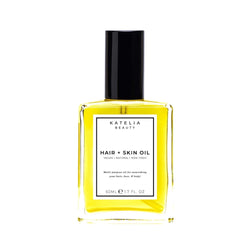 Katelia Beauty
HAIR + SKIN OIL
Hair Oil, Facial Oil, Body Oil, Beard Oil, Scalp Oil, Cuticle Oil ALL IN ONE!
Our HAIR + SKIN OIL is a versatile and all-in-one beauty product for nourishing hair, face, & body for both men and women. It's formulated with many different oils that are rich in nutrients as well as antioxidants to treat all your hair and skin concerns. Each oil works actively to strengthen and rejuvenate your hair and skin. While other oils feel too heavy, this product leaves a non-greasy residue which results with a flawless finish when applied under makeup. The deeply nourishing formula can also be used for moisturizing nails & lips.

Just see below the many benefits of using this oil! 
BENEFITS & FEATURES:
Rejuvenates hair, skin, and body
Strengthens hair strands which prevents split ends 
Nourishes damaged hair
Hydrates dry skin
Tightens mature skin + prevents wrinkles
Can be used before applying foundation
Moisturizes cuticles
Softens lips
Encourages scalp health when applied to roots

Unisex product which can also be

 used 

as a beard oil to soften men's beard & hair 
See our HOW TO USE OUR HAIR + SKIN OIL page to see the many different ways of how to use this oil in your beauty routine!
HOW TO USE:
Always perform a patch test.
FOR SKIN: Apply (1-2 pumps) to clean skin and massage into face, lips, neck, body, and cuticles. Can also be used before makeup application. For best results, use for AM and PM.
FOR HAIR: Apply (1-2 pumps) to dry or damp hair and focus product on the mid-section to the ends of your hair. For best results, use daily. 
Store in a cool & dark place away from sunlight.
KEY INGREDIENTS:
ROSEHIP SEED OIL:
Newly added ingredient which contains great benefits for hair + skin! Rose Hip seed oil contains Vitamin E & Anthocyanin which help calm the skin and reduces inflammation. This oil is best known for treating acne-prone skin and heals scarring by increasing collagen production. 
RICE BRAN OIL:
Fights dandruff, tames frizzy hair, and is rich in omega 3 and 6 fatty acids to help promote longer, thicker, and healthier hair. Rice bran also contains vitamins B + E for repairing skin, and reduces the appearance of aging.
*ORGANIC* ARGAN OIL:
Packed with powerful antioxidant properties and fatty acids, argan oil is one of the most versatile oils to promote healthy hair and skin. Argan oil helps moisturize hair and rejuvenates the skin by treating acne, aged skin, stretch marks, skin wounds, skin infections, and many more skin concerns. It's also one of the most nourishing oils for promoting healthy hair.
*ORGANIC* SWEET ALMOND OIL:
Sweet almond oil makes for a rejuvenating hair and facial oil because of its powerful properties involving calcium, magnesium and zinc. It is a natural antioxidant and contains Vitamins A, B, D, and E which make for a great ingredient for repairing hair + skin. Sweet almond oil contains lubricating properties which strengthen hair strands and prevent dryness & split ends.

CAMELLIA SEED OIL:
Camellia seed oil is a rare flower that contains nourishing properties, similar to what our skin naturally produces! It contains vitamin E and squalene, along with oleic and linoleic fatty acids making it a great emollient for healing dry/damaged hair, skin, and nails! This unique oil contains the perfect amount of moisture as it leaves a non-greasy residue to the skin which makes it convenient for applying under makeup! Another great thing about this oil is that it doesn't clog the pores which makes this oil suitable for sensitive skin types!
GRAPE SEED OIL:

Strengthens and moisturizes hair, tames frizz, heals damaged hair and is great for all skin types. Grapeseed oil penetrates quickly into the skin so it doesn't feel too heavy or greasy. Great for acne-prone or sensitive skin and makes the skin more elastic so it bounces.
JOJOBA OIL:
Since this oil is an anti-bacterial, anti-inflammatory, and an antioxidant, it's made for treating so many skin concerns such as acne, wrinkles, and scars. Jojoba oil is also packed with many minerals and nutrients to nourish hair!   
CASTOR OIL:
Acts as a natural laxative and promotes healthy hair & scalp. Contains anti-inflammatory properties to fight fungus, acne, and wrinkles.
*ORGANIC* SAFFLOWER SEED OIL:
Stimulates the growth of longer, stronger, and thicker hair. Contains great properties to help increase hydration for hair & skin.

LAVENDER ESSENTIAL OIL:
Contains anti-inflammatory properties to calm and treat acne-prone skin. Lavender is a strong essential oil for generating growth cells which promotes thicker hair and prevents thinning when applied to the scalp. 
BERGAMOT ESSENTIAL OIL:
Cleans the scalp from product build-up, encourages scalp health thus, faster hair growth, and adds shine to hair. Contains antibacterial and anti-inflammatory properties to treat stubborn acne. 
Full ingredient list:
Oryza Sativa (Rice) Bran Oil, Prunus Amygdalus Dulcis (Organic Sweet Almond) Oil, Carthamus Tinctorius (Organic Safflower) Seed Oil, Persea Gratissima (Avocado) Oil, Simmondsia Chinensis (Jojoba) Seed Oil, Vitis Vinifera (Grape) Seed Oil, Orbignya Oleifera (Organic Babassu) Seed Oil, Argania Spinosa (Organic Argan) Oil, Crambe Abyssinica (Abyssinian) Seed Oil, Camellia Oleifera (Camellia) Seed Oil, Rosa Canina (Rose Hip) Seed Oil, Ricinus Communis (Castor) Seed Oil, Limnanthes Alba (Meadowfoam) Seed Oil, Tocopherol (Vitamin E), Lavandula Angustifolia (Lavender) Flower Oil, Citrus Aurantium Bergamia (Bergamot) Fruit Oil.
Invest In Versatility.
Invest in Yourself.